The BEST Carrot Cake! (Gluten-free, Grain-free, Dairy-free, Paleo)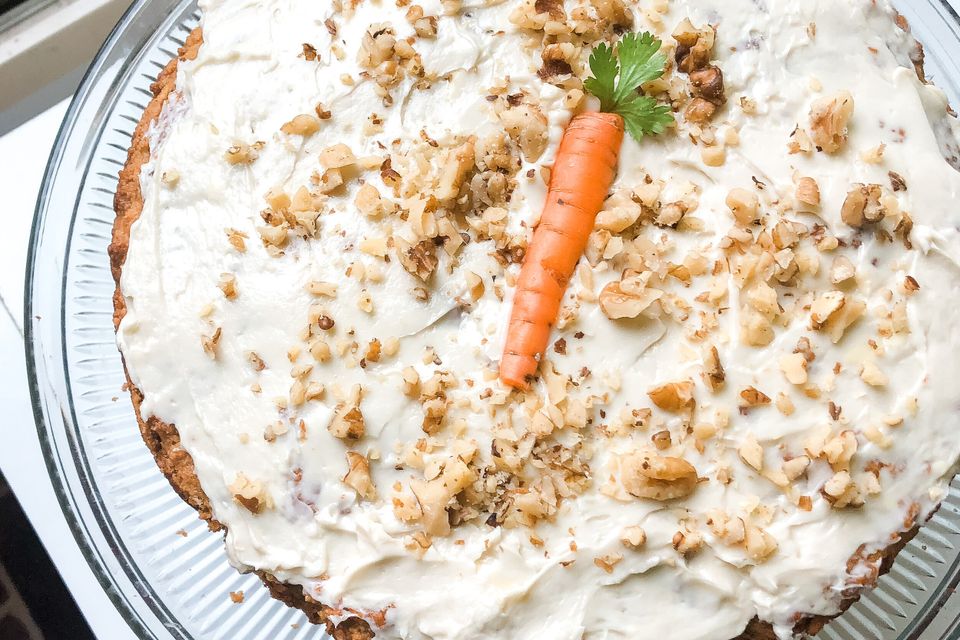 This year was my first year to plant carrots in my garden. I didn't really know what to expect as far as how many I would get, I was a total newby. I had talked to a farmer at one of the farmer's markets that I go to regularly and he said to just sprinkle the seeds underneath all my other plants. He said that they like to grow in the shade that the other plants make. It sounded easy enough, so I gave it a try! I didn't spread them out in any sort of nice rows, I literally just sprinkled carrot seeds in the bottom of my garden. Man I got so many carrots!! It honestly stressed me out at the beginning because I thought that they would all be teeny tiny since they were all so jammed packed in there. (Again, I didn't make neat rows.)

I thinned and thinned the carrots early on to try to be sure that I got some big carrots. This led me to having a plethora of tiny, sweet carrots to figure out what to do with. My boys ate them plain of course, but one day I got the idea of making a carrot cake with them and my sons were of course down for this idea! The cake turned out so well that I knew that you would love to have the recipe. Let me know how you like it if you try it!
Ingredients Needed:

For the Cake:
1/2 cup coconut palm sugar
For the Icing:
2 large cans coconut cream
1/2 cup maple syrup or to taste
Materials Needed:
bowl stand mixer or hand mixer
measuring cups and spoons
Instructions
1. Preheat oven to 350* F

2. Shred your carrots and chop your walnuts to be prepared for later in the recipe.

3. In your mixing bowl, put your softened coconut oil, coconut palm sugar, and maple syrup. Mix until well combined.

4. Add in your almond flour, baking powder, baking soda, salt, cinnamon, and allspice. Stir just to combine a little and then stop.

5. Add the eggs and mix well.

6. Pour in vanilla and carrots and stir in until fully incorporated.

7. Add in the walnuts and shredded coconut and gently fold in. You can leave a little out to top your cake if you would like.

8. Pour in two, parchment lined pans.

9. Bake for 20-25 mins or until a toothpick comes out clean.

10. Meanwhile, make your icing. Put all the ingredients for the frosting in a bowl, whip well until fluffy.

11.Put in the fridge to stay cold until you are ready to assemble to cake.

12. Let cake cool completely before adding the frosting.

13. Decorate with a little nuts and coconut flakes.

14. Enjoy!

I'd love to hear from you